Posted on February 26, 2011
Chicken Costume.
Lunch.
Dinosaur Buddy.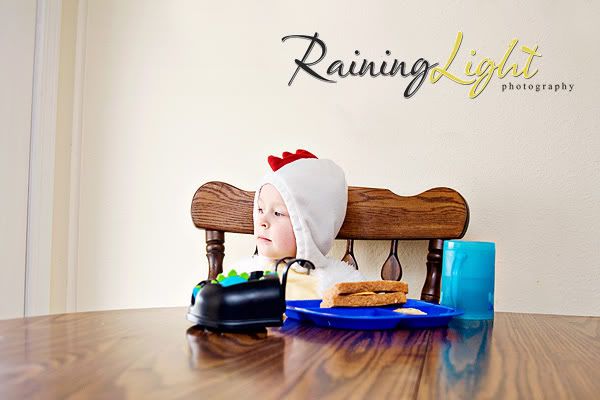 What a joy three is.
Contact Cherron |  Visit on Facebook |  Follow on Twitter | Subscribe to Newsletter
Posted on February 25, 2011
Aww, this little guy put up SUCH a fight in the beginning, but he soon fell asleep and did so very well.
His mom told me he was strong willed and that was the complete truth!
I had to pull out all of the tricks, but it was so worth it.
I loved the way he held his little mouth while sleeping.
SO adorable.
Posted on February 20, 2011
How exciting!!  The winner has been selected!  Before you scroll down to watch the video, I'd like to say a few things first.
First of all, thank you SO much to all of the people who made this possible.  All of the contestants and to their friends and families for voting.  It was a great contest and I thank you.
Also, this video is completely unedited with the exception of being converted to black and white.  I ended up having to film in my small (flowery wallpapered) bathroom and the white balance was driving me crazy.  So, I just changed it all to black and white to keep my sanity. 
Um, I thought that the names would be seen better than they were.
And finally, I'm such a dork.  Really.  This video will prove it.  If you ever doubted my uncool factor, this video will lay it to rest.  Especially if you pay particular attention to what I'm doing as I'm trying to shake up the names in the hat.  I called my sister after I finished to tell her that I was probably going to embarrass myself by posting it, but you know what?  It is what it is.   I am a little goofy, a little dorky, I talk way too fast, and tend to be a little shrill when excited.  Now you know my secret to the huge grins from my clients.  They are just laughing at my utter ridiculousness.
What surprises do I mention?  More on that in a little bit!!! 
Posted on February 14, 2011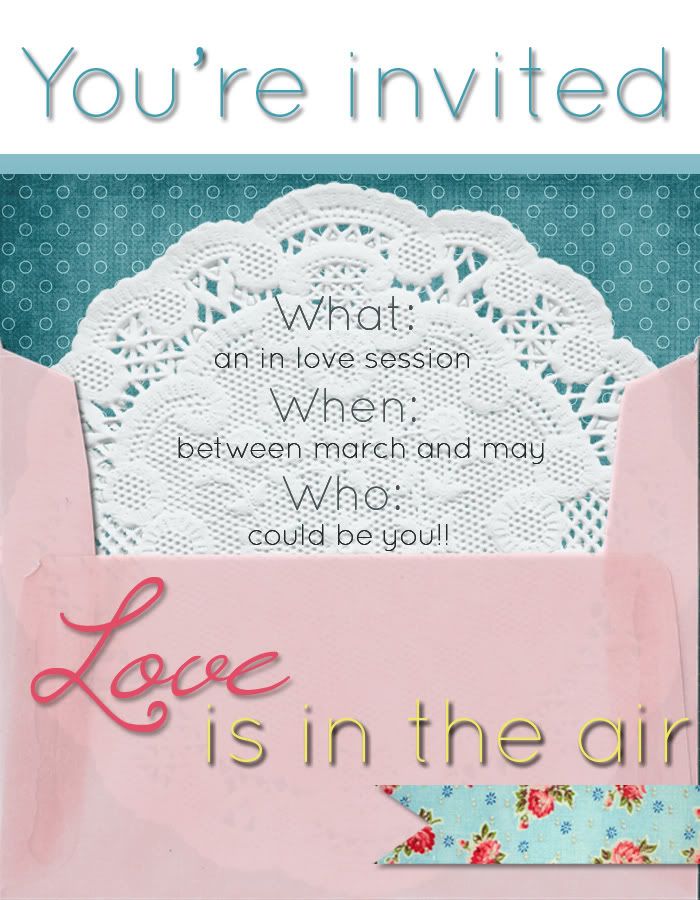 What? What is all of this?
Well, I'm feeling the love today and thought it would be really fun to pay that love forward!
So, in honor of Valentine's Day, I'm going to hold a little contest.
The Details:
Please email cherron@raininglightphotos.com with a photo of you and your valentine along with an explanation of why you think you would be perfect to have a couple's session. Did you elope and have never had proper photos taken? (Totally happened to us) Has it been years since you and your Valentine were in front of the camera? Have you just become engaged, just married, just had a baby, or are just head over heels in love? I wanna hear about it!!
I'll take nominations until ten o'clock pm on Wednesday the 16th. Once I've received them all, I'll post the photos up on my Raining Light facebook page. To become a finalist, you simply have to be a fan (liker? What the heck am I supposed to call that these days?) of the page and 'like' the photo. And get all your friends and family to do it as well because the top three photos will become finalists. I'll then post a video (that's kinda scary) of me as I put the top three names in a hat and draw a winner! How fun is that? Voting for finalists will last until ten o'clock pm Friday the 18th and I'll do the drawing on Saturday!!
What will the winner get? A couple session from Raining Light Photography along with five digital images with printing release,five reference prints of those images and a mounted 11×14! So awesome.
The Fine Print:
Must agree to allowing both photo and explanation to be published on both my blog and facebook business page
Nominations will begin today, Feb 14th and last until 10:00pm Feb the 16th
Finalist voting will end at 10:00 pm Feb the 18th
The winner will be announced on Saturday, Feb the 19th
You must be a fan/like Raining Light Photography in order to like a nomination photo
session must take place between March and May 2011
session must take place in Northwest Arkansas in my normal location radius
prizes can not be traded in for cash value
prizes can not be substituted (though upgrades are allowed)
Okay! Let's get in those nominations! I can't wait to see all the entries. ??
Happy Valentine's Day!!
Posted on February 12, 2011
My oldest daughter is in Kindergarten this year.  This means class parties with fun games, goodies, treats, and laughs.
I decided to make a little Valentine's bunting and use it in the girls' Valentine's Day photos.  They had a good time helping me and they also did a great job posing for the photos.  Sometimes that is a small miracle.