Posted on November 23, 2012
Hey, friends!!
Here are some awesome Black Friday specials and sales.
Click here for $100 gift certificates for Raining Light Photography for $50.
Use these Gift certificates for
anything that Raining Light offers.
Wondering what to do with your digital files you have purchased from RLP?
Tiny Prints offers adorable holiday cards as well as other fun products from your photos.
Click below for
20% off
and use the promo code:  20NOVSW
Happy Shopping!
Posted on January 22, 2012
I feel like I do a lot of creative things in my 365 project .
I really, really enjoy it.
It's fun to explore different themes and ideas and see how they translate into an image.
Lately I've been thinking about how I would take some of that creativity to help
take me out of my comfort zone when shooting clients.
I've also been going through my website images and adding some things to the website.
Looking through all these images has made me start to wonder what
is my favorite thing to shoot.
If I could only shoot one type of session for the rest of my life,
what would it be?
I honestly can't say right now.
I love things about each and every thing I shoot.
I really wanted a way to step out of my little comfort zone while
really focusing on finding out if I have a favorite
session type.
I've decided the easiest way to do this would be to hold casting calls once or twice a month
just so I can shoot for me.
No pressure.
If I have a free day, I'll announce a specific time, the general idea, and I'll have a session
with the first person who volunteers.
Sometimes it might be some sort of personal challenge:
(an all available light toddler session in their house)
or something very specific
(woman with short red hair and tattoos for boudoir session)
or very open
(couple/engagement session)
As a thank you, volunteers will get three digital images from the session.
I'm excited to see what happens!
Posted on November 30, 2011
Roughly once a year,
I like to give the gift of photography.
It's fun.
It's a great feeling.
And it is so appreciated.
This year, a friend and fellow photographer, the talented Stacy of  Focus Photography, posted
about an amazing give away that she is doing.
You nominate someone that you adore and love and think deserves a free session.
The fun thing is if that person wins, the one who nominated receives a free session, too!
Awesome, right?
Well, I was thinking (after talking with her, of course) about how I could do something similar.
But I want to kick it up a notch.
I'm not just giving away a free session.
I'm giving away a free wedding.
Say what??
Yes, that's right.
One gift of wedding photography.
Six hours of coverage, a complimentary engagement session, and a disc of the wedding day images.
AND the person who nominates the winning couple will get a complimentary portrait session as well!
Just call me Cherronaclaus!!
(Yeah, that was a little lame, but I totally laughed!!)
Okay, time for the details!!
If you know of a wonderful couple that you think deserves a nomination, simply email a snapshot
and a little letter to me explaining
why you think they would be perfect for a wedding giveaway!
Are they the type that is always there for their friends, even if that means
helping them move in 105 degree weather up three flights of stairs?
Are they always hosting the get-togethers for the big game?
Are they just the nicest people ever?
I wanna know!
Nominations can be sent in between now and December 10th at 11:59pm.
I will announce the winner of December 12th, which is my wedding anniversary.
Awwwwww.

Fine Print:
Prizes are not redeemable for cash and are non-transferable
Wedding must place take place in 2012 in NWA unless all travel expenses are paid
Complimentary session must take place by the end of May, 2012
Contact Cherron | Visit on Facebook | Follow on Twitter | Subscribe to Newsletter
Posted on November 9, 2011
There are still a few dates available for the November Last Minute Minis.  $100 for a half hour session!
Click on the contact link or email cherronmcdonald@gmail.com to book or to get more information.
Posted on August 1, 2011
Hey Cool Kids!
Everyone enjoying your summer?  Maybe melting more than enjoying?  Yeah, same here. 
This summer has been a huge learning experience for me.  I've been busy with the business, with my family, going across the country, and just learning to balance it all.
I've quickly learned that I'm not balancing it very well.
I've found myself staying up later, working more during hours that I had originally dedicated to family time,
and still the timeline from the start of the session until my clients had their disc/prints/products
was just stretching out way too long for my satisfaction.
So, what's a girl to do when faced with such a lesson?
Well, this girl sat down and really thought about what I could change to make it easier.
Easier for me, my family, and my clients.
After tons of soul searching, including a brief moment of insanity when I considered closing RLP's doors,
I came up with a solution.
I've been mostly digital for the last two years, but I still had print credits and reference prints and products included in my collections.
This was great because I love to offer these things for my clients, but the additional work was really slowing down my timeline.
I just wanted SIMPLE.
So I created it.
What I love about this is that both my clients and I know exactly what they are going to get
once they book the session.
And this means that by the time I send out the password to the gallery,
the disc will already be ready to be sent in the mail!
Yes, that's right.
You can expect your disc to be sent to you within fourteen days of your session.
Now that's the kind of timeline I can love!
Does this mean that RLP is no longer going to offer great products like beautiful image boxes or gorgeous albums?
No way!!
They will still be offered, just a la carte.
I'll still upload the images in an online gallery, will still offer professional quality prints as well as my line of fantastic products to really showcase your session.
I think this is going to be a really great thing.
Want more information?
Email me!
Posted on March 8, 2011
Ooh, spring. I'm so excited for spring! I can't wait for warmer weather. My family and I have lots of plans for this spring and summer, including our first big camping trip since the girls were born. Well, one that does not involve just a tent in the back yard!!
  Not only am I looking forward to family fun, but there are so many great things happening with RLP, too. I'll announce them here on the blog after our first newsletter goes out, which will be later on this week!  Yay!   Spring Mini sessions will be announced and there will be some fun new things from the boudoir side of Raining Light Photography, too.  If you want to subscribe, just click HERE.
Since I can't stand not to add a photo, here is a recent one from my 365 self portrait project. I really need a haircut, though I'm sort of digging this tousled look I have going on!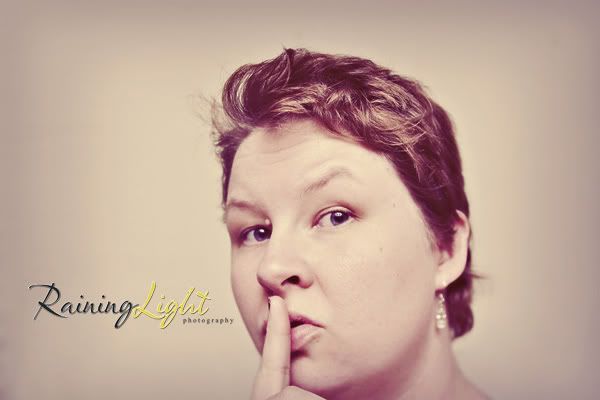 Contact Cherron | Visit on Facebook | Follow on Twitter | Subscribe to Newsletter
Posted on December 31, 2010
Valentine's Day is just around the corner!  I'm happy because my oldest daughter is in Kindergarten and is actually excited about Valentine's Day.  Blaze, being oh so close to a teenager, sort of lost that years ago.   Tatum can't wait to pass out Valentine's Day cards to all of her school buddies.  I will be revealing the special Valentine's Day shoot with my girls at a later time, but since I was playing around with the details today, I thought I would go ahead and announce this year's Valentine's Day special!  I already have announced it for the ladies and now it is time for the kiddos!  I'm doing something a little different this year.  While I will be holding an actual studio day for the minis (date and details still being ironed out), I'm also going to allow this special to be extended as a portrait party, too!
Not familiar with my portrait parties?  They are so much fun and a great way to get some updated photos of your children without having a full session.  If you are interested in hosting one and would like more information, simply get in contact with me and I would love to discuss it with you!
A custom Valentine's Day card of your child to pass out?  Too cute!!
Posted on November 29, 2010
Oooh, there have been a ton of fantastic offers, specials, and deals floating around everywhere since Friday. It's been sort of fun to watch and hear all the excitement from my friends. Me? I've never been brave enough to face the crowds of Black Friday. Cyber Monday is more my cup of tea. I like to shop in my jammies with a cup of coffee while listening to my kids!!
I can't let today go by without my own little Cyber Monday special. How does $100 gift certificates for only $50 sound? Yay!! Email cherron@raininglightphotos.com if you would like to purchase. Keep them for yourself or pass them out as gifts! (not redeemable for cash.  Must be used by Dec 31, 2011. Sale ends at midnight tonight!)
And because I don't like posting without a photo, here is one of my new favorites from the Cherronelli series!!
Posted on October 21, 2010
The time has come! Ready? Time to announce the winners of my little contest for 10.10.10! Excited? I am!
I decided for the sake of fun photos that instead of using Random.org to pick winners, I would employ my five year old to draw names out of the hat. Or basket, in this case. She thought it was a lot of fun and even helped with the list.
Here are all the entries both before and after being folded. They look excited, huh?
Here she is reaching into the basket for the first winner. Isn't she cute with her missing tooth? She has another one that is oh so close to falling out.
My baby is growing up.
Our first three winners, each receiving $10 off of their next session fee with Raining Light Photography, are:
1.) Court
2.) Maggie B.
3.) Ruth P.
Our next two winners, each receiving 10% off of their next order with Raining Light Photography, are:
1.)Amy P.
2.)Diana R.
The winner of the 10 image accordion mini album containing images from her next Raining Light Photography session is:
1.) Liz
The winner of 10 free 5x7s from her next Raining Light session is:
1.) Michelle J.
Next up, a free 10×10 mounted print from her next session with Raining Light Photography:
1.) Shelia M.
Who gets a 10×19 standout from her next session with Raining Light Photography?
1.) Terra!
Annnnnnnnnd who is the winner of the grand prize? Who gets a session with Raining Light Photography and TEN digital images?
Congratulations to Angie O! I'm so excited for our session together!!
And what about our remaining three entries?

I can't let them go away empty handed, so they also get $10 off their next session fee with Raining Light Photography.
Congratulations to all of our winners. Thank you so much for participating in my contest. It's been a lot of fun.
Posted on October 10, 2010
Today is 10.10.10. Sounds like a great time to do a contest to me! What should we do? I've been thinking of what I should do all week and tossed around so many ideas. Some were funny and some were lame. But after much debate, I've decided to do a contest with ten prizes! Sound exciting?  I think so! 
(Three winners)  $10 off your session fee
(Two winners) 10% off your next order
a 10 image accordion mini album
10 free 5x7s
10×10 mounted print
10×10 stand out
GRAND PRIZE:
A session with Raining Light Photography with ten digital images!!
The details:
all prizes with the exception of the grand prize require a booked session
Sessions must take place in NWA or else traveling fees will apply
prizes are non-transferable and can not be exchanged for their monetary value
What do you have to do to enter?
Leave a comment on the blog!  What kind of comment?  Any comment!  Tell me what kind of session you would want, how your day has been, what is your favorite season, anything!
The contest will be open for the next ten days and then I will use random.org to randomly pick blog comments for each of the prizes.  Sound good?  Awesome!  Start commenting!  Tell your friends.  Have fun and good luck.
And because every post deserves a photo, here is a little gem from Laine's family session.