Posted on August 7, 2012
Well, maybe she isn't really a senior anymore, but we shot the session like a senior session.

Miss Allie is one of the fantastic teachers at KDA
(the coolest dance studio around, you know)
and my middle daughter is in love with her.
Allie was her teacher last year and she is so good with the kiddos.
(All the teachers there are so amazing with the kids.)
At the beginning of the summer, I asked Allie if she would like to do a session
with me.
I had visions of sunsets and a leaping ballerina.
Allie was perfect for it.
She said yes and we planned for the session.
What we did not plan for was a huge thunderstorm that followed us
and dumped buckets of water on our heads.
It ended up passing after we hid for a bit, but it took away our sunset. 

No worries, we just shot at twilight!
And we've planned to reschedule some time in the near future just for some more play
during a sunset. 
Here are some of my favorites from our session.
Isn't she gorgeous?!
It was so fun!
I can't wait to work with her again!
Posted on April 3, 2011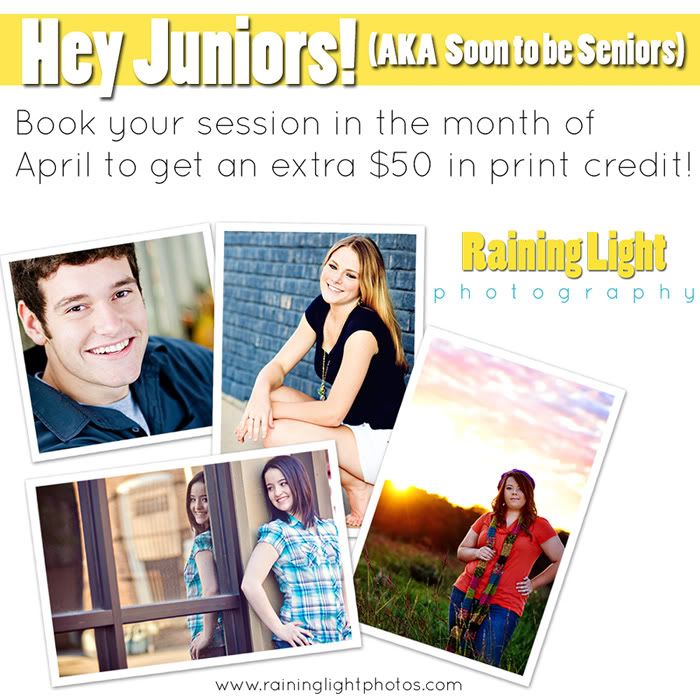 Yep, if you book your session in the month of April,
you will get an extra $50 in print credit!
Your session doesn't have to take place in April to take advantage of this deal, just booked.  Easy peasy!
My collections include digital files, print credit, and some have some awesome products, too.
Collections start at $350.
To book your session or to get more information,
send me an email
cherron@raininglightphotos.com
Posted on March 27, 2010
This session was a ton of fun!  Jamie is a senior  rep of mine so in addition to doing a normal session, we also devoted a bit of time to experiment with off camera flash.  I use OCF is the winter all the time, but whoa!  It's a totally different beast outdoors.  It was great fun and wonderful learning experience.
This sneak peek is going to be short and sweet because I'm dealing with a not feeling well baby right now.  I actually think that she may be cutting teeth. 
Anyway, on with the photos!
I'm in love with this one.

And here is one of the experimental shots at dusk.
Posted on February 24, 2010
What's a senior rep?  They are out-going  juniors who tell their friends about the fun time they had getting their senior photos made with me and earn free prints!  A mini-session will be done now and we'll use those images for rep cards.  Rep cards are really awesome little cards with photos of the rep on the front and information about Raining Light Photography on the back.  The cool thing about the cards is that they are used to earn free prints or product credit.  And once summer rolls around, the reps will get a full session with Raining Light Photography, too.
All you have to do to be considered is send me an email with a paragraph or two about yourself.  Tell me about your hobbies, your interests, what you like to do for fun, what kind of vision you see for your sessions.  Do you have a fabulous collection of shoes?  Own an amazing truck you've poured your soul into?  Can't live without your guitar?  Been dancing since you were four?  Live for sports?  Tell me about it.  While I'm all about the shy, quiet kids, reps need to be outgoing enough to spread the word about Raining Light Photography and pass out their cards.  As long as you think you can do that, come on and apply!  Along with the bio, you can also send a small (under 1mb) photo of yourself if you want, though it isn't required.  And tell your parents that you're interested in being a rep.  I'm sure they'll have some wonderful insight about your best qualities. 
Posted on January 1, 2010
2010.  It is finally here.  It brings soo many changes in my life, both personally and with Raining Light Photography.  This will be the year my daughter starts kindergarten.   Can she really already be at that point?  My son will turn 12!!  I can vividly remember twelve being a turning point in my life in so many ways and so I look to this milestone of his with bittersweet anticipations.  Our sweet Paeton will turn three!  She is so independent and headstrong now.  I can only imagine what she'll bring to my plate this year.  Even though tiny Aryah is but seven weeks old at the moment, I know that soon I will planning to prepare for the first birthday of my last child.  I'm so glad I have many months before that one!  I'll hit the big three oh this year.  As of right now, I'm okay with that.  My life is pretty sweet.  You may, however, be hearing screams from me around May because I'm not sure how calm I'll be about it as the date gets closer. 
  Seriously, though, I think I'll be fine with thirty.  It'll be thirty-five that will most likely be scary for me.
Be on the look out for some changes for Raining Light, too.  I'm restructuring my pricing, completely revamping the boudoir line-up (and will be moving that aspect of the business to its very own site in the near future!), and implementing some new ideas into the wedding side of things as well.  There will be some new products, new packages with emphasis on digital, and a more streamlined process all the way around.  2009 was a great learning year and I hope that I can really make 2010 better!   I also hope to blog at least once a week and show more sides of Cherron as a person.  I realized this year that some of the greatest inspirational blogs from my favorite photographers, the ones that I can't wait to check in the mornings to see who posted something new, were the ones that showed glimpses of their personal lives as well as the photography side.  I've decided that I need to do that as well.   I want my clients to feel like they know me well before the first click of the shutter during a session.   There is no reason why I can't make my business the type that I WANT to run and not the type that I think people feel it should be.
So, yes, 2009 was great even though it was a slow year because of my pregnancy.  I learned a lot, developed a more solid idea of where I want to be in the future, and grew so much as a photographer and as  a person.  I'm so ready for 2010 to be even better!  I'd like to thank all of my clients in 2009 for such a fantastic year.  You were all an absolute pleasure to work with!!
I hope that 2010 is a beautiful and healthy year for all of you as well!
xoxo
Cherron
Posted on November 22, 2009
Sweet Kaity has been waiting oh so patiently for these photographs.  She is the senior that I mentioned in my last post whose session took place the day before I was hospitalized.  She said that a lot of her friends had done urban sessions and that she wanted nature for her photos.  I love the location that we picked.   It wasn't as colorful as it was just a week before the session, but it was still gorgeous and I think we got some fantastic shots.  I had a hard time narrowing down a handful for the sneak peek. 
Isn't she gorgeous?
Kaity, I hope you enjoy these and I can't wait to show you the rest! 
Posted on October 18, 2009
Alison is probably wondering these are!! No worries, they have arrived. I really tried to get this up earlier, but I've been under the weather the last two days. I hope they were worth the wait!
Isn't she beautiful? And so sweet, too.
I wish I could write more, but I feel the bed is the best for me at the moment. Good night, all!
Posted on October 6, 2009
I love senior sessions.  I haven't been able to do many, but the few that I've done just make me so giddy.  Isn't that silly?  I just love feeling the excitement of the start of a new chapter in life, seeing the vibrant personalities emerge from these young adults, and getting to hang out with some really cool kids for a couple of hours.  Last night was no exception.  I had a great time.  Sheldon was sweet, funny, and oh so polite.  His mom must have been doing something right!
(Oh, that totally rhymed. That wasn't intentional. I'm not THAT big of a dork!!) He was even nice enough to walk slowly since I'm not able to do much but waddle these days! It all worked out, though, because we got some fun, fantastic images. Here are a few of my faves.
Okay, the one at the top needs some explaining. It's Sheldon's reflection in a mud puddle and I just rotated the photo so it wasn't upside down. I really like how it turned out.
Isn't he a handsome guy?!
Thank you so much, Sheldon, for such an easy going session.  You made my job so easy!